The Wonder Years - March 12th 2013
March 12th 2013
A&R Music Bar
Columbus, OH
Wonder Years, Fireworks, Hostage Calm, Misser

If you ever drive more than an hour for a show it had better be worth it. My three and a half hour trip from Pittsburgh to Columbus, OH to see The Wonder Years was clearly a great investment and worth all of the 5 hour energies, redlines, and Fun Dip my body could handle.

On the way there the car was packed with anxiety to see a long anticipated show for my friend and me. I bought tickets as soon as they went on sale; a good choice considering the whole tour basically sold out within a month or so. We finally arrived at 6:30, piled in, and waited patiently.

First up was Misser, a band formed from opposite sides of the US playing their grungy poppy post-hardcore melodic and lyrically strong music. I thought the opening act would be calm and the audience would appreciate them quietly but as soon as they played the first note a group of fans rushed forward and immediately the crowd began to move. They played a strong set with a few new songs sprinkled in. My favorite song they played that night was "Time Capsules" and it seemed to be a hit with the crowd too. It was my first taste of Misser and one I won't be able to spit out any time soon. A group of talented and friendly guys such as Misser deserves to be on this tour, I can't wait till they come back around so I can see them again.

Next on the bill was Hostage Calm, a group from Connecticut and a great addition to the tour. Their style, although similar to pop-punk, had a lot of punk rock influence. They recently put out a split with Anti-Flag and plan on touring with them later this year. The crowd was moving a lot for Hostage Calm and getting antsy for the rest of the night.

Third was an incredible pop-punk five piece from Detroit called Fireworks. Even when they were setting up the stage the crowd was moving back and fourth and swelling up with excitement. The whole crowd moved as one when they started playing and I worked my way toward the middle to be part of the action. After a few excited older gentlemen were dropped on my head I decided it would be best to move toward the sides where I would still have a good view but I would not have to be trampled, pushed, hit, moved, jumped on, or violated any more than necessary. Everyone was going wild and even when Fireworks played their last song and the lights lifted back up the tension did not cease.

It seemed like everyone was pacing, chanting, and reserving their energy to release it in one final burst. The clock seemed to be moving abnormally slow as I too was filled with anxious energy preparing, waiting, and watching intently as the crew was sound checking. The lights dropped and we heard the beginning to a great set by The Wonder Years.

Dan "Soupy" Campbell introduced the first song, "Local Man Ruins Everything" and we all began jumping and singing along. There was no build up to purge energy, instead it was released in one giant jump. I was surprised how many kids were packed into the small venue and how little the walls trembled under the thumping, stomping, jumping, and running all these kids were doing. Hit after hit seemed to be played, even a throwback "You're Not Salinger, Get Over It!" found its way on the set list. Overall I thought The Wonder Years set was diverse as well as entertaining. They played an equal amount of songs from The Upsides and Suburbia and everyone knew all the words.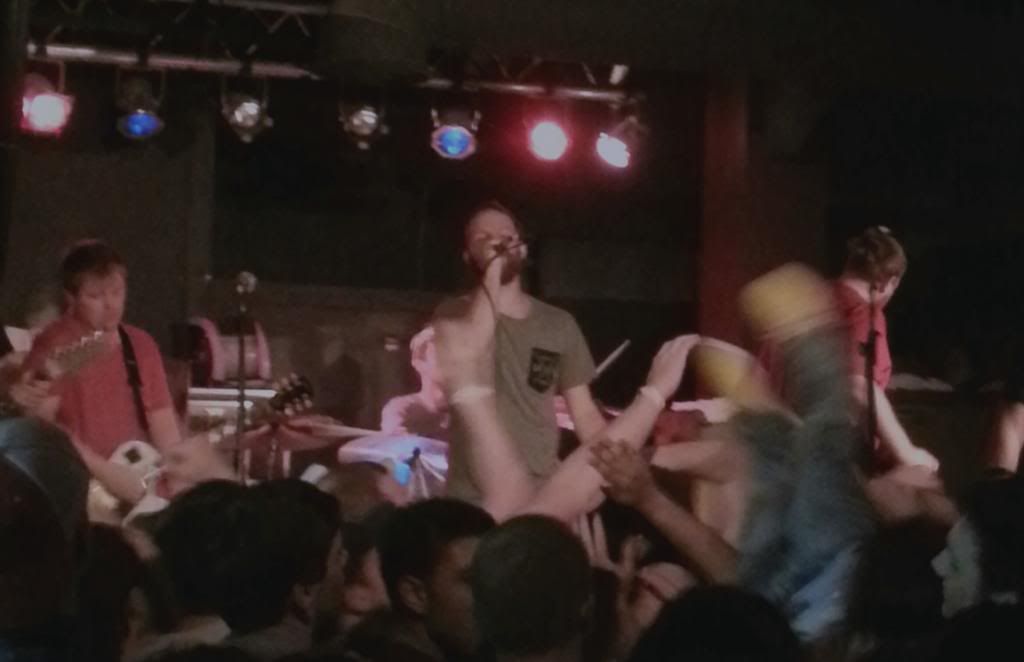 The encore was a nice sing along, "The Living Room Song" and ended with the last song on their most recent CD "And Now I'm Nothing".

I've been told before I'll never see another show like the Wonder Years and I am pretty convinced that is true. Between the devoted fans, the great set list, and the willingness to have fun The Wonder Years put on a show you need to see at least once in your lifetime. Even Fireworks, Hostage Calm, and Misser were great supporters and seem to all be fans of each other and put on a memorable show themselves. It was a fantastic night for music and a feeling I will be searching for the rest of my concert-going life.



- Alyssa Hawley



What's the longest you've traveled for a concert? Are you a fan of the Wonder Years? Do you really like Fireworks, Hostage Calm, and Misser? Were you at this show too? Leave a comment below and let's talk about it!