Punk Goes Crunk
Posted May 12, 2008, by Cristal <3.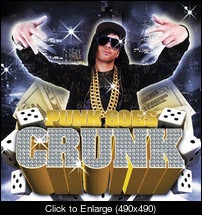 Genre: Punk;
Two of my favorite things in the world: Pop Punk and Crunk! This CD has popular bands that are setting the bar as of right now and also up and coming bands like The Secret Handshake and Hot Rod Circuit. These bands picked songs from famous Hip Hop/ Rap artists from back in the day to artists that are making it to the top of the charts today. One of my favorite tracks on this CD had to be All Time Low's version of "Umbrella" by chart hitting female artist Rhianna. Even though it still has a power female set to it, All Time Low made it rock in their own way which will have their fans singing along to this great cover song. Not only does this Punk Goes Crunk CD have Pop Punk bands but they also brought in The Devil Wears Prada, covering "Notorious Thugs" by the one and only Notorious BIG, to show some of their screaming vocals can become one with Rap music. If you're a fan of Hip Hop, Rap, and have an open mind to Pop Punk/ Screamo (Or vise versa), you have no other place to look then right here Punk Goes Crunk.


1. Set Your Goals - Put Yo Hood Up (Lil John)
2. Say Anything - Got Your Money (Ol' Dirty STICK)
3. The Secret Handshake - I Wish (Skee - Lo)
4. Forever The Sickest Kids - Men In Black (Will Smith)
5. My American Heart - California Love (2Pac)
6. The Maine - I Wana Love You (Akon)
7. Emanuel - Kryptonite (Purple Ribbon All-Stars)
8. Person L - The Seed (The Roots)
9. The Devil Wears Prada - Still Fly (Big Tymers)
10. All Time Low - Umbrella (Rihanna)
11. Scary Kids Scaring Kids - Notorious Thugs (Notorious BIG)
12. The Escape Frame - Nothin' But A "G" Thang (Dr.Dre)
13. Hot Rod Circuit - Gin And Juice (Snoop Dogg)
14. Lorene Drive - Hey Ya! (OutKast)
15. New Found Glory - Tennessee (Arrested Development)

You can also find other covers such as "Sexy Back" by Poison on other cover CD's.