LADIES NIGHT @ UPGRADE (DRUM AND BASS)
Posted Sep 22, 2007, by MELODY.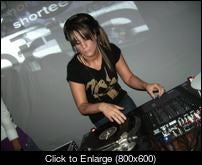 One word to describe Ladies night at Upgrade; Wicked! Upgrade showcased the talents of an all female entertainment line-up. The nights bill was packed full of beautiful, talented, and crazy female DJ's and MC. Although the night started with Jane Doe going back to back with EX Girl, I arrived as Mixtress and Nature set the mood for the night. Mixtress and Nature, hailing from San Diego, eased the crowd into the night with a set full of mellow, flowing Liquid tracks. According to Wikipedia, Liquid Funk is a style of Drum and Bass. While it uses similar bass lines and bar layouts to other styles, it contains fewer bar-oriented samples and more instrumental layers (both synthesized and natural), harmonies, and ambience, producing a calmer atmosphere. Although the crowd was small, the San Diego duo brought the people to their feet with some hip hop breaks and Reggae beats. These Veteran ladies flashed their style in both their track selection and image. DJ nature is not only a talented DJ, but also a clothes designer. It Seems as though she is a woman of many artistic talents. Her designs can be found at www.zhibit.org/naturemade. The ladies rounded out their set with some high energy hard hitting tracks, setting the crowd up for the next lady of the night.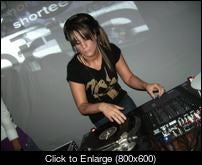 Narcotica pumped the crowd and created an edge with her selection of hard tracks, and heavy beats. The hard, dirty, grimy bass lines had every hand in the building up in the air. By this time there was no denying that this party was going off, and I was all over that dance floor putting down the moves. MC Julz accompanied the ladies with her versatile style of rapping combined with singing melodies over the DNB tracks. It was amazing to see the seemingly effortless transition from hard tracks to funky liquid tracks. I would have to say that I fell in love with her style and energy. Narcotica was an entertainer in the true sense of the word. It was very apparent by her performance that she loves her job and the DNB scene. Narcotica exclaimed, "This party is why I love Drum and Bass. I've been to a lot of different parties in a lot of different cities, but the scene here is insane. There is nothing like it!" Being that she was the last DJ to spin before the headliner DJ Shortee, she kept the crowd pumped and the energy high.




By the time Shortee took to the decks, the floor was packed, and it was hot and steamy on that dance floor! DJ Shortee, a well known turntablist (vinyl scratching) started her set out with her usual presentation of her incredibly impressive scratching skills. I have never seen a female crab walk quite like the famous DJ Shortee. I think what impressed me the most about her scratching set was her ability to scratch without using the fader (which is not an easy feat) There was not a person on that dance floor that wasn't moving or screaming for Shortee, myself included. She was so into the music and jumping around, I couldn't help but do the same. She knows how to get the crowd going. She always throws down the crowd pleasing high energy tracks with bass lines that vibrate from the bottom of your feet to the tip of your head. She threw in a bit of Jump-up alongside some hip hop influenced DNB tracks. According to Wikipedia, Jump-up is a style of Drum and Bass characterized by bass lines that have a pitch bending, which gives the bass a "wobble" sound accompanied by up-tempo drum loops. It was designed to be played to get a crowd to "jump up" and dance, and Shortee definitely had that crowd jumping up. While showcasing her flawless mixing abilities she would break up the mood with more scratching, which got the crowd going crazy! During Shortee's set, the party was raging strong and the place was packed full of energetic Junglists (one who listens to and enjoys Drum and Bass.) Shortee's crowd pleasing set, and energy proved her to be the true Queen of the Jungle.

It seems as though Upgrade, which is thrown by MC Werd, is the newest OC DNB hot spot. The party was packed full of familiar faces, and sported a list of DNB DJ/Producers and MCs which included; SDF1, Xenocide, GoneJaw Men Crew, Boxmon, and Capital J, a well known DNB DJ from Canada. Capital J stated, "Drum and Bass is an underground movement. In canada, the female Dj representation is dry. Now, its getting better. Tonight shows that L.A. and OC have ladies that can mix and put down a wicked party."