Josh Mayhem, The Clique, Whizard, APX-1 @ Splice
Posted Dec 5, 2007, by MELODY.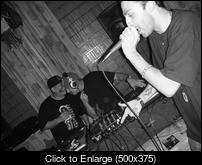 Fun, funky make you want to wiggle what your momma gave you; Top 40 Electro remixes are blowing up in the underground scene. Every Friday night Splice showcases DJ's that spin a variety of Electronic music, including this new Electro crowd pleaser. If you are looking for a place that plays good music and has a sexy, mysterious ambiance, look no further, Splice is the place to get down!




Kemist and Josh Mayhem pumped the night up with an Electro remix of Michael Jackson's "Rock with You" that made me want to bust my best Michael impression. Oh yeah, you know that if you start my night out with Michael, it's a recipe for a crazy night! I have to say that I have started to make more room in my heart for Electro Pop, because it's "feel good" music.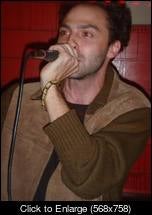 That place got steamy as soon as Orange County duo, The Clique, took to the decks. Breezy, one half of The Clique, switched up the mood and hooked the crowd up with his Hip Hop flavor. He had heads bobbing to the Drum and Bass sounds of a "Walk It Out" remix. After a good dose of Hip Hop was injected into the crowd at Splice, McBeats, other half of The Clique, eased it down with some mellow Liquid tracks.

I think my night was made when McBeats spun my happy song. You know those songs that bring a smile to your face, even when you are down in the dumps? Yep. Well my happy song so happens to be "13th Floor" by Bungle. I just can't seem to get enough of that track! The Clique was not putting up any stops and threw in everything but the kitchen sink. The party exploded with everything from Hip Hop to Hard Step and Liquid Funk. The duo proved that good things are coming out of Orange County.

The night closed up with Whizard and Circuit and CRS? and APX-1 killing the crowd on the decks. The floor was rumbling, walls were shaking, and the bass was vibrating through my body. Every camo hoodie wearing Junglist sported their best bass face and waved their hand in the air.

Splice is like that sampler appetizer you get at your favorite restaurant, it has a little bit of everything! Big ups to the boys at Splice!

Photos Courtesy of Josh Mayhem