E.C.E.K., Knight Stalker @ Space 2710, 9/24/10
E.C.E.K., Knight Stalker, Nyuk! Nyuk! Nyuk! @ Space 2710, 9/24/10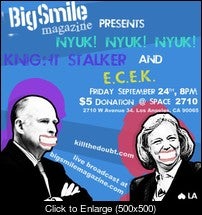 Featured Artists: E.C.E.K.; Knight Stalker; Nyuk! Nyuk! Nyuk!; Genre: Electronica; Indie; Rock;
Friday night's Big Smile show at Space 2710, Eagle Rock was complete with solid performances by three unique bands. E.C.E.K., Knight Stalker, and Nyuk! Nyuk! Nyuk! played full sets to the venue's small-setting crowd.

Electric Current Eccentric Kaos (E.C.E.K.) is a two-piece, progressive / funk / experimental band from Los Angeles. Their performance Friday night had the audience absolutely entranced in their experimental sound. Kristopher Escajeda's rapid guitar riffs manipulated by various guitar effects and Elena Castro's fast-paced, dynamic drum patterns cultivate an all-around dramatic and powerful atmosphere. E.C.E.K. has a number of upcoming performances this month. Be sure to check out their MySpace page and go see them play! www.myspace.com/ecekmusic Unfortunately, we weren't able to get an interview with E.C.E.K. due to time constraints, but we do have plans to catch up with them soon.



Knight Stalker is an experimental band originally from Monterey Park/Montebello. Their style could be considered a mix between club dance music and indie tempo and progressions. Knight Stalker's live performance was perfectly complemented by the intimate setting of the venue. Knight Stalker also performs a number of DJ sets throughout Los Angeles. Check out their MySpace for a full schedule! www.myspace.com/knightstalkerislove Also check out Knight Stalker's after-set interview on Big Smile!



Nyuk! Nyuk! Nyuk! is a one-man/one-clown band from Monterey Park, CA. Intricate keyboard leads and effects were played over pre-recorded, heavy-hitting dance beats creating a commanding performance. The intensity of Nyuk! Nyuk! Nyuk!'s performance was emphasized by the musician's style as well, dressing in a full monster/clown costume! The live and online audiences were amused and loved his performance. Check out Nyuk! Nyuk! Nyuk!'s MySpace: www.myspace.com/nyuknyuknyuk. Also check out our interview with Nyuk! Nyuk! Nyuk! after his set.



The entire show was broadcast live on BigSmileMagazine.com, drawing in a number of online viewers. Future shows at Space 2710 will follow the same format. Stay updated with Big Smile and be sure to check out E.C.E.K., Knight Stalker, and Nyuk! Nyuk! Nyuk!