Dead Kennedys / JFA / Union 13 @ HOB Sunset 6/6/08
Posted Jun 16, 2008, by ME.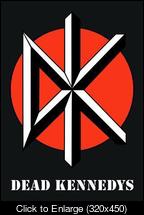 Genre: Punk;
East Los Presents… Union 13. I don't know why but I wanted to see them. Maybe it's because they've been around so long and went through so many changes, but nonetheless they were good. I never really listened to them, but I do remember listening to some songs when I was like 15 and the backyard gigs in L.A. It was nice to see the punx represent. There was a pit for every song and that's rare to see for opening bands. Up next was one of skate punks finest: JFA. Another band I never really got into but a band that should be respected. This was the second time I've seen JFA and so far I like how they still have that old school feel when they play. I was in the back when JFA was playing and off the top of my head I remember them playing 'Beach Blanket Bangout' and 'We Know You Suck'. JFA played a good set but I was waiting for DK. Dead Kennedys with another new singer played every song you could think of. The pit was crazy. DK needs to play at a bigger venue like the Henry Fond or something - I could see the whole floor being a pit there. During 'Police Truck', I lost my hat and both of my shoes, but I eventually got everything back. During 'Nazi Punks F--- Off' I thought I was going to suffocate when I fell in the pit and everyone else fell on top of me, like ten people. DK always puts on a good show. They need to play more often.