Childish Gambino - Camp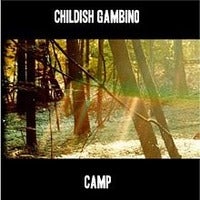 Donald Glover (no relation to the Lethal Weapon actor) is an actor and rapper. He may do some glove modeling on the side too, but I'm not sure. His beats are catchy, his rhymes are dirty, and his voice has a sweet rasp to it. As underground as you can be being on the selective record shelf at Urban Outfitters I'd still say the record is underground. While Childish Gambino is gaining a cult following similar to artists like Kid Cudi, they aren't quite radio friendly.



Donald's voice is one of his most likable qualities. It's one that I don't feel ridiculous singing along to, even if the lyrics are.

At the end of this album, on the track "That Power," Donald explains while being a young teenager, on the bus home from summer camp, he tells the girl he's grown find of that he likes her. It's not that she didn't feel the same that turned his heart a little colder, it was the turn of events that made him grow up (or stunt his growth) and see the world for what it was.