Blood For Blood - Outlaw Anthems
Posted Mar 10, 2011, by ME.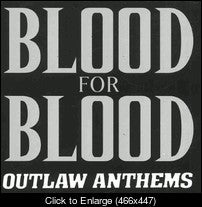 Outlaw Anthems is the 6th album from the Boston hardcore/punk band Blood For Blood. The one word that comes to mind when describing this band and this album is just "Brutal." What compelled me to Blood For Blood was their lack of complexity and their sheer anger towards society. This is the hardcore that I like. The breakdowns are simple but generate tons of energy, very much like 80s hardcore, the guitars and bass are punk friendly, and the lyrics are full of hate. Love it! If you are easily offended, please don't play this album, because songs like "Ain't Like You (Wasted Youth II)","So Common, So Cheap","Some Kind of Hate" and "She's still a NUT (Called Hope)" will piss you off. You've been warned. I love bands who do what they want and jus don't care. You know how Black Flag was described in the 80's? How everyone said that they commanded and took over their shows, brought terror and chaos everywhere they went, well that's what Blood For Blood brings to the table. But even after all the hatred and angst falls to the floor, a feeling of brotherhood and unity rises with songs like "Love Song" and "Bloodshed" (Their tribute to The Bruisers). In the end this album expresses two things, hatred and love. If you're not down with that then just don't listen to them.