Black Party Politics @ Safari Sam's
Posted Aug 4, 2007, by Victoria.

Featured Artists: Black Party Politics; Genre: Indie;

I have never heard of Safari Sam's prior to this event. To my surprise it was pretty big inside and was said to be rated the top venue for all ages in Los Angeles. Matthew and I arrived just as Fim was setting up. This two piece band had a unique sound and continuously switched off playing guitar, bass, drums and even a synthesizer between songs. They were pretty interesting to watch but it was hard to know what to expect from them.




After Fim played, The Naturals took the stage. The Naturals had a poppy-indie, make you want to dance kind of sound. They were pretty good and had a nice energy.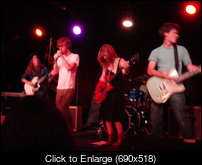 The next band to play was a Latin band called Che Sobre Latino complete with all the elements to make a Latin Pop band. They drew a pretty big crowd which filled the room with dancing.

And finally it was time for the headlining band to set up. People were anxiously waiting close to the stage for Black Party Politics to begin playing. I was one of them. This night had been announced to be Black Party Politics' last show before going to Las Vegas in September to play at MTV's VMAs. Black Party Politics is one of the few bands that will make you smile and laugh but in a way that you can still take them seriously as musicians. They are all very talented and creative with their music. With each of them coming from different styles and musical backgrounds, it shows, but when they collaborate each of their uniqueness and individual tastes it falls together beautifully. Black Party Politics put on a really great show and they really know how to work their audience.

Check out Black Party Politics at www.blackpartypolitics.com

Check out the Naturals at www.myspace.com/thenaturals

Check out Fim at www.myspace.com/fimmusic